Wealth Management & Personal Financial Planning Services
At DeBlanc Wealth Management, LLC, we know it's not just about money. It's about your life and how you want to live it. Line it up right with expert advice and planning. Serving the greater Washington, DC area.
Gain Financial Success
Do you ever ask yourself these questions:
When can I retire?
How can I afford to send my kids to college?
How should I invest my money?
What is the best way to get out of debt?
How much can I afford to spend?
How do I become financial independent?
We want to help you answer these questions and achieve financial success. Financial success starts by establishing a vision, setting financial goals, and making intentional decisions that move you toward achieving your goals.
Do you want to live an extraordinary life? If so, it doesn't just happen to you. You need a plan to show you what is possible and provide you with a roadmap for how to achieve it. With a comprehensive personal financial plan, we can help you discover and achieve your personal financial goals and get you on the road to living an extraordinary life.
At DeBlanc Wealth Management, our team of Certified Financial Planners, Personal Financial Specialists, and Certified Public Accountants are here to help educate and empower you to take control of your personal finances so that you can live life with passion and purpose. As a fiduciary, our primary objective is to help you achieve financial success.
We work with individuals and families to help them build wealth, protect their financial future, and create a legacy for the next generation.
Our Process
Introduction
During this short meeting, we learn more about each other to see if we're the right fit.
Discovery
We seek to learn more about you, your family, your finances, and your vision for your financial future.
Preparation
We collect, compile, and collate information, then get to work preparing your customized financial plan.
Plan Presentation
We present the plan and our recommendations for how you can achieve your goals.
Execution
We help you act on the recommendations that we agreed to in the plan.
Follow-Up
We answer your questions, make any necessary adjustments to the plan, and monitor your progress.
Areas of Focus
We can help you with:
Retirement planning
Advanced income tax planning
Investment planning and management
Goals and lump-sum purchase planning
Education planning
Cash-flow management
Debt management
Insurance planning
Estate and gift planning
And more...
Our Investment Philosophy
We believe markets are efficient. We don't try to predict the future or pick winners and losers. Instead, we rely on Evidence-Based Investing—using empirical data to support our investment strategy.
We believe in focusing on the things we can control, like tax efficiency, low cost, and diversification. We invest in a basket of low-cost, tax-efficient, globally diversified funds representing the global marketplace.
We build custom portfolios designed to align with your personal financial plan and your short-term, intermediate, and long-term goals.
Why Choose DeBlanc Wealth Management?
DeBlanc Wealth Management LLC is a Registered Investment Advisory firm. We are fiduciaries and are required by law to always act in your best interest. We believe what's best for our clients is best for us in the long run.
DeBlanc Wealth Management is backed by its sister company, DeBlanc, Murphy and Murphy, LLC, a full-service Certified Public Accounting firm with a 40+ year legacy of expertise in tax, audit, business advisory, bookkeeping, and personal financial planning. We have the capabilities and connections to meet all your financial service needs, both now and in the future.
Links & Resources
Real Clients. Honest Feedback.
We have used their services to prepare our tax filing for a few years and are very pleased with their knowledge and professionalism. Great job team.
Very prompt and very efficient service. I have been using DeBlanc, Murphy & Murphy for about 10 years and am totally satisfied.
DM&M has been our outside accounting company for over 20 years and they do an outstanding job. Highly recommend.
Who We Are
DeBlanc, Murphy & Murphy is a full-service accounting firm capable of providing clients with a wide range of financial services, including:
Tax planning and preparation
Private company and government audit & attestation services
Accounting and bookkeeping
Business consulting
Personal financial planning
Wealth management
IRS representation

Litigation support
Fraud prevention & detection
Expert witness services
Cryptocurrency consulting
Family office services
The firm was founded in 1978 with one goal in mind—to create value for clients so they can achieve their goals and objective. We've kept that same intention for decades and serve a wide range of clients (big and small) in diverse industries.
Learn More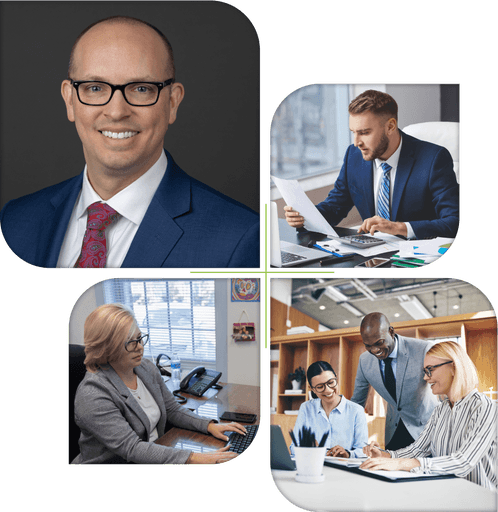 Get On The Right Path.
Everything else gets easier when you have a dedicated team of top CPAs on your side.